NEW SPONSOR!
WELCOME!
We're excited to announce that The Quilters Angel has come on board as a sponsor of Twilight 2 Twilight Country Retreats!
100 Goodies for our Goodie Bags!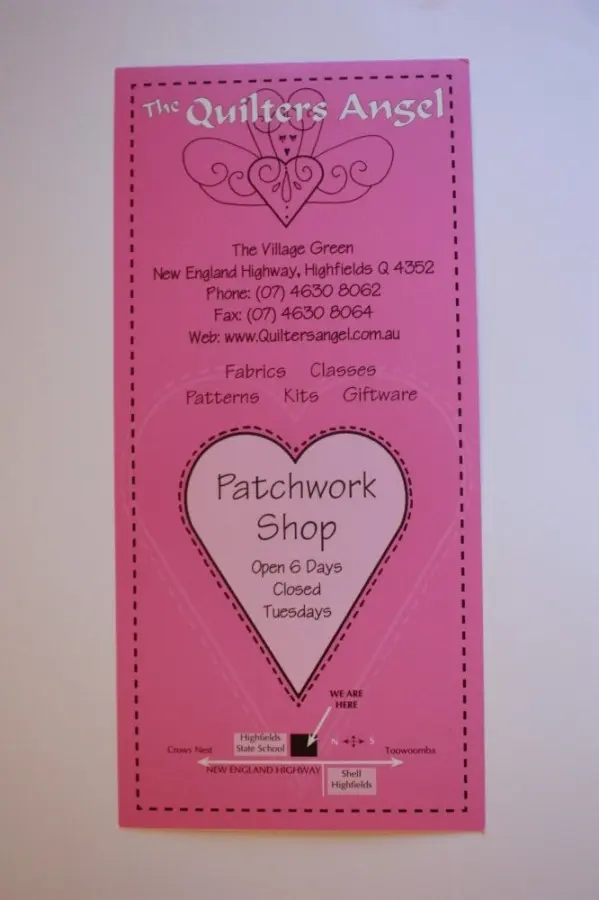 About The Quilters Angel
The Quilters Angel is located in Highfields, a small town 10 minutes drive North West of Toowoomba, Queensland.
Set back off the highway, once you enter 'The Village Green', you pass into another world! Nestled around a large grassy verge which overlooks the fabulous mountain escarpment, are five shops, some re-located old school buildings, which include, The Quilters Angel.
Open 6 days – Closed Tuedays
Mon-Sat: 9am -5pm
Sun: 10am -5pm
The Quilters Angel is more than just a business or shop, it is a feeling. Walk up the stairs or enter via the ramp and you can feel the excitement brewing as you survey all the goodies on display on the large covered verandah. Enter the front door and you are transported to another time.
The shop is a visual feast! With its dark polished timber floors and high ceilings, the interior is an old world backdrop to a treasure trove of content. The ambience is further enhanced by a log fire which burns through the cool winter months and adds extra warmth to an already inviting atmosphere. The focus of the business, of course, is fabric and the crafts of patchwork, quilting and embroidery, creativity and inspiration.
Hundreds of bolts of fabric line the walls and overflow into the main body of the shop. Old fashioned cabinets house laces, braids, trimmings, with racks of patterns and kits as well as an array of your hasberdashery needs. All this packed into a space which can't possibly be circuited once, but begs for a second or third meander around to make sure nothing has been missed. But it is not only the craft lovers who are catered for. Marion has filled every available gap with delicious giftware to delight and appeal to everyone who enters her door.
10475 New England Highway
Highfields
(07) 46 308 062
www.quiltersangel.com.au
www.facebook.com/thequiltersangel