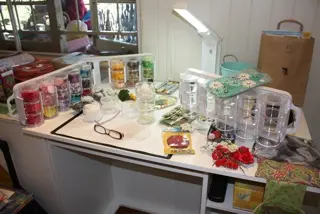 What's your New Year's Resolution?
Make a New Year's resolution to spend time this year scrapbooking, stamping, quilting, sewing or creating anything that brings you joy!
"Twilight 2 Twilight" is Queensland's newest Exclusive Boutique Weekend Retreat Destination! Only 90 minutes from Brisbane! So why not take the ladies away for a fabulous scrapping/quilting weekend? Twilight 2 Twilight offers a much needed respite. Pamper yourself and spend a weekend cropping/quilting on beautiful rural property situated in the historical and very scenic Brisbane River Valley. Lying on picturesque Hampton Road, it is only 11 kilometers from the small township of Esk.
"Twilight 2 Twilight" retreats have been designed specifically for scrapbookers, quilters and crafters. The Studio is a unique workspace designed to inspire creativity in a fun, relaxed social setting. You are invited to share ideas, learn new techniques and connect with others who are passionate about creating beautiful and memorable masterpieces that will be cherished forever.
HOST your own retreat! Create your own retreat for yourself and your group of friends. Book now for the chance to escape the interruptions of every day life and concentrate on completing your projects.
Given the popularity of pervious weekend escapes don't leave it too late to register your group for future available dates. We are confident that you will enjoy our weekend retreats.