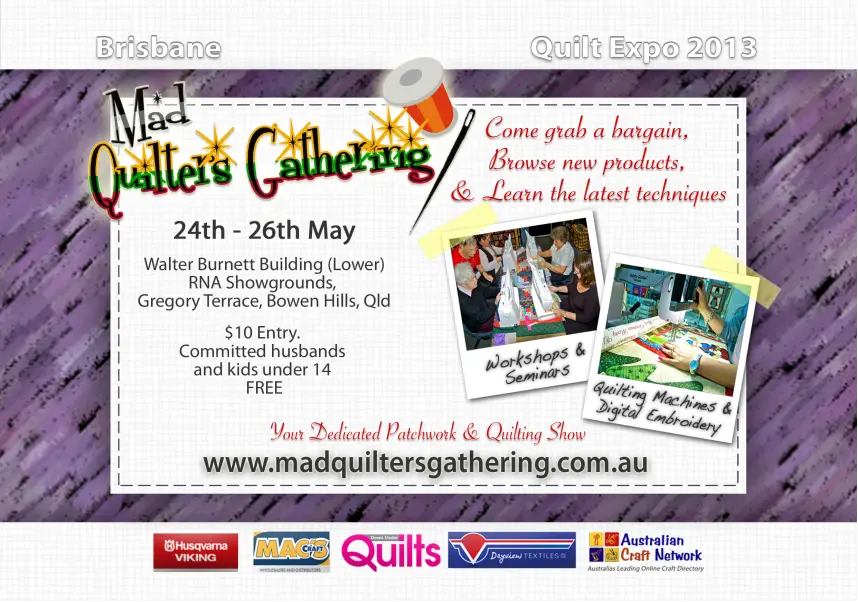 Opening Times: 10am – 4.30pm
Location: Walter Burnett Building (Lower level). RNA Showgrounds, Bowen Hills.
Admission: $10.00 entry. Committed husbands and kids 14 yrs and under FREE!
Be treated to a wide range of top quality exhibition stalls where you can buy the latest stock and grab some excellent bargains. There will be innovative workshops, exciting free demonstrations, kids' activities and much more!
This first Mad Quilters Gathering of 2013 will be larger than 2012 – We are moving to the Walter Burnett Building (Lower)
As well as the MQG Antique Sewing Machine and Modern Quilt Guild Displays, we will be introducing three new sections to the Brisbane Mad Quilters Gathering 2013.
An area dedicated to machine embroidery hosted by Echidna Sewing Products.
An area dedicated to long arm quilting, which will include machines and help on getting your quilt quilted.
And the modern quilt display.
With 40 plus exhibits dedicated to the art and craft of patchwork and quilting, the 24th, 25th and 26th of May are the dates for your diary.