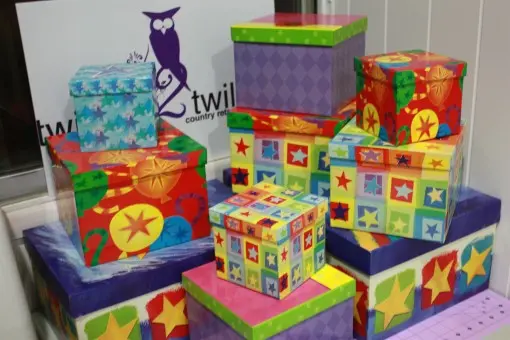 Giveaways Game Ideas!
Drawing numbers out of a Hat
Each guest is assigned a number from 1 to 10
Draw a number owl out of the hat
A number is drawn out, the person with the same number gets to choose a gift box from the cupboard.
The gift boxes are all different sizes.
You player choose a gift box from the cupboard
You win the content of the box (NOT THE BOX).
This is repeated until all of the number have been drawn and all of the gift boxes have been opened
Everyone wins a prize.
The Wicked Santa Gift Exchange Game
Each participate is assigned a number.
Draw a numbered owl out of the box
The person who draws the lowest number chooses a gift box from the pile and opens it.
Then the second person has the option of either taking the first person's unwrapped gift, or choosing a new unwrapped gift box from the pile.
If someone's already unwrapped gift is taken from them, they have the option of taking someone else's already unwrapped gift, or returning to the pile for a new gift box.
This proceeds until all of the numbers have come up, all the presents have been opened, and all of the stealing has been completed.
Using the giveaways on retreat! Have some fun!
Reminder that your giveaway is the content of the box! Please DON'T TAKE THE GIFT BOXES!