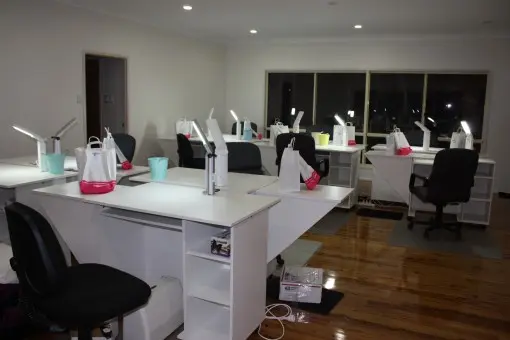 PHOTO ~ Workstation, Goodie Bags & Giveaways on Retreat!
OUR New Studio!
All participants will use custom made workstations (sewing cabinet & scrapbooking table) daylight Portable Lamp, a scrap Bucket, and sit comfortably on ergonomic chairs for many hours as needed!
Twilight 2 Twilight Country Retreats
For the Craft Enthusiast in us All!
Need time and space to help your creative juices flow?
We have the answer: a non stop craft weekend pausing only for the occasional cup of tea or coffee and yummy delights to nibble. In fact, have all your home-cooked meals catered for without having to lift a finger.
Sound too good to be true? Well it's not!
Imagine spending a weekend with friends doing what you love best; creating beautiful and memorable masterpieces that will be cherished forever.
During the weekend you will:
• Have hour after hour of uninterrupted 'me' time
• Learn new techniques and skills
• Have the opportunity to share your original ideas with others, as well as learn from others
• Enjoy this experience with friends and other like-minded individuals, old and new
• Be in the draw to win raffles and giveaways
• Settle back and relax in a tranquil bush location away from the hustle and busy of city life
• Have as much time as you need on task
For more information or to book an upcoming craft retreat, please see our booking calendar or contact us with details of your desired retreat.